SOME OF THE BEST THINGS TO DO IN PALM DESERT AND THE GREATER PALM SPRINGS AREA
GET Your tickets to area activities HERE
PALM DESERT IS A CITY IN THE COACHELLA VALLEY JUST EAST OF PALM SPRINGS AND A COUPLE OF HOURS AWAY FROM LOS ANGELES. IT IS HOME TO A NUMBER OF GOLF COURSES, SHOPPING OPPORTUNITIES, AND COUNTRY CLUBS. THE POPULAR SHOPS ON EL PASEO FEATURE SEVERAL ART GALLERIES AS WELL AS TASTY RESTAURANTS AND DESIGNER SHOPPING BOUTIQUES. A NUMBER OF LEISURE ACTIVITIES ARE AVAILABLE, INCLUDING MANY OPPORTUNITIES TO GET OUT AND EXPLORE THE SURROUNDING DESERT. WHETHER YOU CHOOSE TO BOOK A HIKE WITH TALLGRASS HIKING AND TOURS, GO ON A HOT AIR BALLOON TOUR WITH BALLOONS ABOVE, OR JUST SPEND THE DAY EXPLORING THE SHOPS AND ART GALLERIES, A VISIT TO PALM DESERT IS SURE TO BE ENJOYABLE. WE RECOMMEND THAT YOU CALL THE ATTRACTIONS AND RESTAURANTS AHEAD OF YOUR VISIT TO CONFIRM CURRENT OPENING TIME.
The Palm Desert Bump-n-Grind Trail is one of the most popular hiking trails in the Coachella Valley. Locals may also refer to the trail as the Patton Trail, Desert Drive Trail, Dog Poop Trail, and Desert Mirage Trail. The trail starts out narrow at the trailhead and widens as you go along. It is popular among those looking to get a workout and has an elevation gain of about 1,000 feet as it climbs to an overlook that offers nice views of Palm Desert. A number of endangered wildlife species inhabit the area and it may be possible to view them during your hike, especially bighorn sheep.
Cabot's Pueblo Museum is a historical house museum consisting of a large, Hopi-style pueblo home. The house is a stunning example of the Pueblo revival style and was built by Cabot Yerxa, an explorer and activist who constructed the home out of things he found in the desert. Every part of the house is manmade using sun-dried bricks and reclaimed wood from nearby cabins. The construction began in 1941 and Yerxa worked on the home until he died in 1965. All in all, the house is four stories tall and has 35 rooms. He and his wife opened the house to the public for touring during his life, and today it stands as a museum with artifacts, artwork, and items from the architect's own personal life.
67616 Desert View Avenue, Desert Hot Springs, CA 92240, Phone: 760-329-7610
ANNENBERG ESTATE – SUNNYLAND CENTER & GARDENS
Sunnylands, the former Annenberg Estate, located in Rancho Mirage, California, is a 200-acre estate currently run by The Annenberg Foundation Trust at Sunnylands, a not-for-profit organization. The property was owned by Walter and Leonore Annenberg until 2009 and had been used as a winter retreat by the couple beginning in 1966, when the house was completed. The city of Rancho Mirage considers the property to be "rich with historical significance" and declared Sunnylands an historic site in 1990. Located at Frank Sinatra and Bob Hope Drives, the property has been the vacation site of numerous celebrities and public officials. Sunnylands is sometimes referred to as the "Camp David of the West." 
Wikipedia
For more than 40 years, Ambassadors Walter and Leonore Annenberg welcomed political, business, educational, and entertainment leaders to Sunnylands, their 200-acre winter home in Rancho Mirage, California. In 2001, the couple established The Annenberg Foundation Trust at Sunnylands to preserve the estate as a place where world leaders could meet to discuss issues of national and international importance.
Living Desert Zoo and Gardens
PALM DESERT AQUATIC CENTER
Palm Desert Aquatic Center is a popular water park in Palm Desert that is open all year round for family-friendly water fun any time of year. The facility includes three swimming pools, a number of water slides, diving boards, and several play features specially built to cater to visitors of all ages. The property spans 8 acres, providing plenty of room for water fun. For those who are looking for a special event venue, the property is available for rental. They also offer a number of exercise classes both in the water and on land, perfect for those who like to stay fit during their vacation.

73751 Magnesia Falls Drive, Palm Desert, CA 92260, Phone: 760-565-7467
PALM SPRINGS/PALM DESERT ART MUSEUM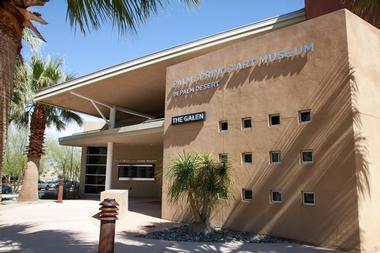 The Palm Springs Art Museum is a regional museum focused on art and natural science. It is also used as a performing arts venue. The museum was founded as a museum about the desert, but has since transformed into a real forerunner in the area of the arts. The collection is especially strong in the areas of west coast art, Native American art, international modern and contemporary painting and sculpture, classic Western American art, and contemporary and studio art glass. The museum offers docent guided tours for free with museum admission. They also offer special in-depth tours for certain events and exhibitions.

101 N. Museum Drive, Palm Springs, CA 92262, Phone: 760-322-4800
PALMS TO PINES SCENIC BYWAY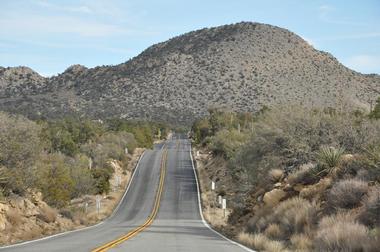 The Palms to Pines Scenic Byway is a scenic drive that follows Highways 74 and 243 from just south of Palm Desert on one end to Banning Pass on the other. The byway was designated as a scenic byway because of the great amount and variety of scenery that you can encounter on the drive. It travels from scenic forests through the California desert and up into snow-peaked mountains. This degree of contrast in environments is rare in such a short distance. There are few services along the road and it is quite windy, but the scenery is certainly worth it.
The San Andreas Fault is one of the most famous fault lines in the world. It crosses approximately 1,200 km through the state of California, marking the boundary between the North American and Pacific tectonic plates. Many tourists who come to the state want to see the famous fault. Visiting the fault can be somewhat underwhelming as it is not the massive crack in the Earth that many people envision. In fact, due to the long time period since the last earthquake, it can be quite hard to make out. Many sections of the fault reside in public land and it's possible to access much of it. If you'd like to visit with a geologist or naturalist, check with local nature centers and parks as many offer day trips.
To the untrained eye, Smiler's Point appears to be nothing more than a simple curve in California's State Route 74. The curve has become a pilgrimage site of sorts for film fans who have given it the name Smiler's Point. In the 1963 hit film It's a Mad, Mad, Mad, Mad World, a reckless driver named Smiler Grogan plummets to his death over the cliff from this point in the highway. It is considered an incredibly influential film by film fans and has a major fan base among film enthusiasts even today. There are no walking paths where you can see the point on foot; instead, it is typically enjoyed by cruising by at a slow speed.

Highway 74, South of Palm Desert
TALLGRASS HIKING AND TOURS
Tallgrass Hiking and Tours is a tour company operating tours in the Greater Palm Springs Area. The company has been leading hiking tours as well as custom mini-coach and luxury bus tours in the area for more than 15 years. Tour destinations range from the agricultural area in the east valley down to the Salton Sea as well as select destinations in Los Angeles, Riverside, the San Gorgonio Pass, and Redlands. Hiking destinations include the Thousand Palms Oasis Preserve, Joshua Tree National Park, the Big Morongo Canyon Preserve, and more. Each and every tour is led by a professional guide, who will guide you in an enjoyable and informative experience.
45300 Portola Avenue, Unit 1514, Palm Desert, CA 92260, Phone: 760-219-3000
Thousand Palms Oasis Preserve
The Thousand Palms Oasis Preserve is a nature preserve in the Coachella Valley. Popular activities here include hiking, picnicking, viewing wildlife, and more on over 20,000 acres of desert wilderness and hiking trails. There is a rustic visitors center called the Palm House, which offers basic services. Docent guides lead free guided hikes several times a week. The hikes depart from the visitors center, are typically short (around 2 miles), and usually have a specific focus. Some possible hikes include the Desert Bird Walk, the Explore the Ecology of a Fault Line Oasis Hike, the Tour of Two Oases, and more.
29200 Thousand Palms Canyon Road, Thousand Palms, CA 92276, Phone: 760-343-2733
DESERT WILLOW GOLF RESORT
Desert Willow Golf Resort is an award-winning golf resort in Palm Desert just minutes away from Palm Springs. It features two of the best golf courses in the Coachella Valley. The Firecliff Course is the more challenging of the two and offers plenty of natural hazards and water features along the way. Alternatively, if you are looking for a more relaxing round of golf, check out the Mountain View Course, which is significantly smoother. There is an on-site clubhouse, gorgeous al fresco dining venues, and plenty of event and meeting space. For those who are hoping to get better at golf, the resort also has a world-class golf academy right on site to help you perfect your game.
38-995 Desert Willow Drive, Palm Desert, CA 92260, Phone: 760-346-0015
Fix on El Paseo is a rustic but chic coffeehouse with a full bar that serves pastries, desserts, breakfast, and lunch, all made in house. Stop by on your way to the other attractions on our list for a breakfast of oatmeal brulee with fruit or a breakfast burrito. For those looking for a tasty lunch spot while they are out exploring, Fix serves tapas, sandwiches, flatbread pizzas, and lunch crepes. Alternatively, just stop in for a bite of something sweet and a cup of Joe and you certainly won't be disappointed. They also are a popular place to purchase a wedding cake in the Palm Springs area.

73580 El Paseo, Palm Desert, CA 92260, Phone: 760-340-3040
Grill-A-Burger is a casual burger joint that pumps out gourmet burgers, hot dogs, and salads to many loyal locals and tourists each day. The restaurant is outfitted in kitschy island-style décor. which makes the perfect backdrop for a meal in Palm Desert. The restaurant specializes in a range of specialty burgers with some of the best ingredients around, including hormone and antibiotic-free 100% all-natural USDA beef. They offer a range of versatile choices for diners with allergies or special diets, as you can order your burger on a gluten-free bun for an upcharge or a lettuce wrap at no additional cost.

73091 Country Club Drive, Palm Desert, CA 92260, Phone: 760-348-8170
AJ's on the Green is more akin to an entertainment venue than a restaurant. The restaurant has won awards year after year as one of the best live entertainment venues in the Palm Springs area. They are open daily and feature some of the best food and shows around. The menu is varied and leans heavily into seafood and Italian-style dishes with plenty of New American cuisine appearing as well. Whether you go for garlic shrimp and pesto pasta or prime rib, make sure you don't get too full as you will want to leave room for their creme brulee or salted caramel ice cream. Check out their website for current entertainment options and make sure to stop by for the Sunday jazz brunch, which is not to be missed.
36200 Date Palm Drive, Cathedral City, CA 92234, Phone: 760-202-1111
COACHELLA VALLEY BREWING COMPANY
30-640 Gunther Street, Thousand Palms, CA 92278, Phone: 760-343-5973
DESERT ADVENTURES RED JEEP TOURS & EVENTS
Desert Adventures Red Jeep Tours and Events is a tour company that leads guided adventure tours in the Greater Palm Springs area. They offer a range of tours that will suit almost anyone, regardless of your preferences. They have a private 800-acre ranch in the India Hills known as Metate Ranch, where they offer hiking, sightseeing tours aboard buses, jeep tours, wagon rides, and adventure programs for families and groups of young people. In addition to the range of activities offered at the ranch, the company also provides jeep tours through Painted Canyon and the nearby Mecca Hills Wilderness Area as well as tours of Palm Springs Indian Canyons and several other attractions.
74-794- Lennon Place, Suite B, Palm Desert, CA 92260, Phone: 760-324-5337
SANTA ROSA AND SAN JACINTO MOUNTAINS NATIONAL MONUMENT
Appearing abruptly in the middle of the desert, the mesmerizing Santa Rosa and San Jacinto Mountains National Monument attracts hundreds of visitors from all over the US. Within the 280.000-acre monument you will find palm oases, hot springs, snow-capped mountains and fabulous wilderness areas, begging to be discovered. The Visitor Center is the logical place to start your exploration. Here you can find out all about the many recreational facilities and the center also offers direct access to the accessible Ed Hastey Garden Trail and the Randall Henderson Trail. The monument offers both primitive back-country camping as well as a developed campground at Pinyon Flat, also suitable for equestrians.
Santa Rosa and San Jacinto Mountains National Monument, 51-500 Highway 74, Palm Desert, CA 92260, 760-862-9984
MCCALLUM THEATRE FOR THE PERFORMING ARTS
McCallum Theatre for the Performing Arts opened to the public in 1988, bringing the priceless cultural gift of live theatre to Palm Springs and Palm Desert. Today the theatre is a much-acclaimed entertainment venue which stages fabulous performances in just about all genres from music, to acrobatics to drama and ballet. The theatre boasts a state-of-the-art sound system and has received praise for its excellent acoustics. In addition to providing a full calendar of outstanding entertainment, the McCallum Theatre is also actively involved in educational programs aimed at fostering a love of the performing arts in all members of the community. Please visit their website to see what's on and book your tickets.
73000 Fred Waring Dr, Palm Desert, CA 92260, 760-340-2787
DESERT HOLOCAUST MEMORIAL
A moving a poignant reminder of Man's inhumanity to his fellow Man, the Desert Holocaust Memorial remembers all those who lost their lives in the Holocaust, and the thousand of brave people who risked everything to hide and protect their Jewish friends and relatives. The highly symbolic monument includes a circle of trees, representing 'normal' life outside the constraints of the concentration camps. Inside you can see a chronology of the events of the holocaust and 7 larger-than-life bronze statues which represents different various aspects of the holocaust. A visit to the monument is perhaps a sobering experience but an important one for all ages – "lest they be forgotten".
43-700 San Pascual Ave, Palm Desert, CA 92260, 760-324-4737
RANDALL HENDERSON LOOP TRAIL
Pulling on your hiking boots and setting off along the Randall Henderson Loop Trail is a wonderful way to discover the hidden gems of the Santa Anna and San Jacinto Mountains National Monument. The trail encompasses 3 loops, namely the Wash, Cholla and Canyon Loops, each of which will expose you to different elements of the low-elevation desert environment. You can download a brochure (or pick up a map at the Visitor's Centre, to guide you along the way. You will find a fascination variety of desert vegetation, admire brilliant view of the mountains and stand the chance to spot some local wildlife including the endangered Bighorn Sheep. The 2.5 mile hike is rated "easy".
51-500 Highway 74, Palm Desert, CA 92260, 760-862-9984
Art enthusiasts who are visiting Palm Desert are invited to spend a few uplifting hours feasting their eyes of the beautiful works of art in the CODA Gallery. For more than 30 years this gallery has been showcasing some of the best contemporary fine art from all over the state and beyond. Just about all genres of art are represented in the gallery and you can anticipate admiring a collection which includes paintings, glass-art, sculpture, photography and much more. Both emerging and established artists are represented and almost everything you see is available to buy. The gallery is open daily from 10am to 5pm.
CODA Gallery, 73400 El Paseo, Suite B1, Palm Desert, CA 92260, 760-346-4661
LA QUINTA BREWING COMPANY